Task Manager Fix is a FREEWARE system utility to fix task manager disabled by spywares, trojans and displays error message :"Task Manager has been disabled by your administrator", which blocks access to Windows Task Manager.
When you try to open Windows Task Manager, by pressing CTRL+ALT+DEL the following error often appear:
"Task Manager has been disabled by your administrator"
INSTANT solution to common problem – "Task Manager Not Working"

This error message appears due to restriction placed in the Windows Registry. One can easily enable Task Manager by editing some registry settings. For a normal user editing registry is not easy and a bit risky.
Task Manager Fix is designed to enable disabled Task Manager. Download the FREE Task Manager Fix tool to quickly enable Task Manager. Handy windows system recovery tool to remove task manager restrictions and effective solution to the problem – "Task Manager not Working".



This download (Task Manager Fix v2.0)

is FREEWARE.
"Freeware is copyrighted computer software which is made available for use free of charge, for an unlimited time, as opposed to shareware where the user is required to pay (e.g. after some trial period or for additional functionality)." More info at Wikipedia.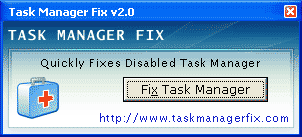 Client's Testimonials
Client's Testimonials
"Thanks for such a nice tool !"
Garry Sims
"My PC works now, God bless you. Cheers! "
Celena George
"I am unable to access my task manager. I downloaded your free tool and it fixes the issue. Thanks".
Simon Brian
"Just a note of thanks for your "Fix Task Mgr" Utility Program. I'd found two different MS Support docs - neither of which matched my XP Home registry entries. Your tool seemed to do the job quick and easy. Thanks very much.".
Daniel Williams